ADISADEL CENTENARY (1910 - 2010)

---
Thank You Santaclausians!
Welcome to the Adisadel Centenary Page.
On behalf of the entire Santaclausian community, best wishes to you for your continued success.

Feedback: Write your comments at bottom of the page or send all comments about the Centenary to:

National Centenary Planning Committee Secretariat
Email: adisadel2010cpc@yahoo.com
Phone: 021-255153/4
---

Financial Account of the Centenary Celebrations
Presented By the Centenary Planning Committee (CPC)
The detailed accounts together with supporting documents have been presented to the board by Messer's Jose Nicco Annan and Emmanuel Ackah-Yensu, Chairman and deputy Chairman of the Centenary Planning Committee. Please click on the image to the left for a PDF version of the report.


At the said meeting various memorabilia were also presented to the board to be kept for future generations and as a reminder of the various events and activities that took place during the centenary year.



Click on image above for a
PDF version of the report.

---
Adisco Centenary in Pictures & Sound Bites
Cape Coast, Ghana, Monday 19th July 2010 - The scene and atmosphere in Cape Coast over the last week (12 - 18 July) and especially at Adisadel College was something that could be described as a historic centenary celebration, bringing together over 3,000 Santaclausians from around the globe. The Adisco campus was "painted" in the traditional black and white colours of the school as both current students and Old Boys (also known as Santaclausians) took part in a week long celebration of a school started on 4th. January 1910 called the School for the Propagation of the Gospel (SPG Grammar School).
This was an event that should not have been missed by any 'Santa'. Old Boys from the 1940s to the youngest ones who graduated in 2009 were at hand to grace the occasion. Classmates and housemates who have not seen each other in decades, revived old friendships and old tales - from their experiences as 'homos', seniors punishing juniors for minor issues, sports, classwork, experiences in the dinning hall, assemblies at the Canterbury Hall, voting for school prefects, picking up prizes at Speech Days, the bright ones, students who entered Form One as 'fathers', etc, etc, etc. Words are just not enough to describe the centenary experience...we however are delighted to share with you pictures, videos and sound bites from the week of celebrations....
Please click on the photo links below for pictures taken during the Centenary Week in Cape Coast...Photos are uploaded as they become available...
Opening of the James Mercer Gate sponsored by '68 Year Group
Adisco Campus - Latest photos before Centenary Week - I
Adisco Campus - Latest photos before Centenary Week - II
Centenary Durbar
Sat 17 July 2010
Centenary Gospel Night
Thursday 15 July 2010
Centenary Service and Cement Party - Sun 18 July 2010
Global Old Boys Congress
Thu. 15 July 2010
1980 Year Group at the Centenary Celebrations
---
Striving for Excellence at Adisadel College: Achievements, The 2010 Centenary Celebrations and Issues of Alumni-Alma Mater Relations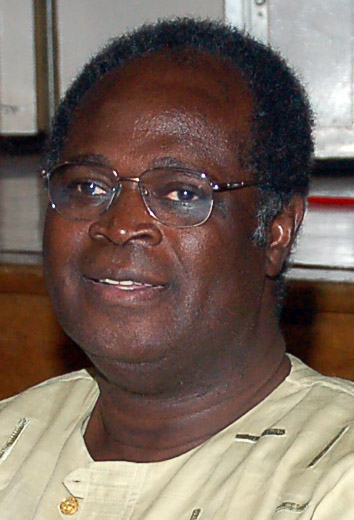 Dr. Ebo Richardson, Quaque House - 1965, revises, adapts and expands a portion of his previous personal anecdotal material on academic excellence at Adisadel College. He also provides his own, unofficial, eye witness account on scenes, personalities and key activities of the centenary week (July 12-18, 2010) in Cape Coast. He then describes and reflects on what the centenary celebration's planning and execution might tell us about the nature and quality of the 'bond' between Santaclausians and their Alma Mater. Here below, a few short excerpts from the paper.

"Great and distinguished academic institutions are known and defined by two attributes: 1)The School's outstanding human and material resources, most notably its teachers , and 2)The quality of its Alumni and the bond that exists between the Alumni and the School."

"The author encountered many 1960s Santaclausians in Cape Coast during the Centenary week (July 12-18) at Adisadel. They were there to provide a strong visual, vocal, moral and material support to Adisadel. Above all, they had come to support the extremely important national mission of educating the citizens of Ghana. The Centenary Celebration was, first and foremost, a salute to the triumph of education, and to Adisadel as one important piece in the educational puzzle in Ghana! "

At the Wednesday evening's Gospel Night:

"Soon, a long and meandering line of Santaclausian dancers, some in their 70s, 60s, 50s, 40s, and 30s, were energetically dancing their way majestically and beautifully in a perfectly choreographed manner. The younger crowd was ecstatic. The Choir and musicians performing on stage were electrified. The "ancient and old" Santaclausians were amazed at themselves…. And a good time was had by all!"

" A specially commissioned Adisadel centenary cloth had been printed for sale. As a result, there was a particularly remarkable and very moving atmosphere at the Sunday morning's Centenary Church Service. Santaclausians, spouses, parents, children, siblings, friends…. many were looking quite resplendent in their Adisadel Centenary clothing (Men's' full length cloths, Women's kaba and skirt, Agbadas and Joromi shirts, men's shirts, all cut from the Adisadel centenary cloth!). "

Click on this link to read the full Paper (pdf format)
---
Centenary Fellowships and Awards
Various Santaclausians and non-Santaclausians received awards at the recent Centenary Durbar held in Cape Coast. The awards presented fell into two broad categories – "Acquired Awards" or Fellowships and "Earned Awards" or Centenary Awards.
Recipients of fellowships qualified on the basis of certain minimum cash contributions they made to the Adisadel College Centenary Fund.
In selecting recipients of the Centenary Awards the Awards Sub-Committee of the National Centenary Planning Committee took as their guide the words of the School Ode:
"Up Santaclausians, stand up to honour those who have gilded the school with their fame".
In other words, we are being enjoined to honour merit and achievement. Not only that, but those who have dedicated themselves to the cause of Adisadel.
Please find below links to the list of award recipients:
Link: Centenary Fellowship Awards
Link: Centenary Awards
---
Centenary Durbar: Welcome Address (Full Text)
by Mr. Abam Quartey, Chairman - Adisadel Board of Governors
Your Excellency, Professor Evans Atta Millis, President of the Republic of Ghana,
Nana Osabarima Kwesi Atta II, Omanhene of Oguaa Traditional Area,
Osagyefo Osei Tutu II, The Asantehene,
His Grace Justice Akrofi, Primate of the Province of West Africa and The Arch Bishop of the Anglican Diocese of Accra,
Our Episcopal Representation,
The Clergy,
Ministers of State and Honourable Parliamentarians,
Members of the Diplomatic Corps,
Former Chairmen of the Adisadel College Board of Governors,
Former Headmasters and Staff of Adisadel College,
The Centenary Headmaster and His Centenary Staff,
My very proud Fellow Santaclausians,
Distinguished Invited Guests,
Ladies and Gentlemen,
It is with great pleasure and excitement that I stand here as a humble citizen of the Republic of Ghana, a proud Santaclausian, and the Centenary Chairman, to welcome you to Adisadel On The Hill.
It is also with great trepidation that I welcome you to the climax of the Centenary celebration of Adisadel College, a school which was founded on the 4th Day of January 1910 by the Society for the Propagation of the Gospel of the Anglican Church Mission, under the able Episcopal Stewardship of His Grace Temple Hamlyn, Bishop of the Anglican Church's Diocese of Accra which at the time encompassed the whole of Ghana (then the Gold Coast).
Link: Read More
---
Centenary Durbar: Full text of the Keynote Speech by Dr. Sir Sam Jonah
I am humbled and honoured to be here today presenting the Keynote Address on this very special occasion. I must confess to feeling intimidated in the presence of His Excellency, the President of Ghana, John Evans Atta Mills and other distinguished guests including my former teachers and old Santaclausians who knew me in my original raw state, shorn of all the after-school accretions. There are countless others who fit the bill of keynote speaker better.
Naturally, I have asked myself what I could have done wrong to be saddled with this burden. Naturally also, the story of the biblical Jonah and the Whale comes to mind - somebody to be sacrificed; and who deserves to be thrown to the waves more than a contemporary Jonah?
One hundred years ago, when the SPG founded this school, their modest ambition was, in part, to educate the youth for the Anglican Christian Ministry. True to this goal, the school, which later moved to this location and became known as Adisadel College, has produced countless priests and bishops. But beyond personnel for the Christian ministry, the roll call of products of the school in other areas of both national and international endeavours will take hours to read. Suffice it to mention here the following...
Link: Read More
---
Centenary CD on Sale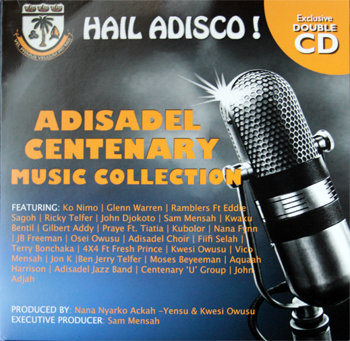 The Centenary Music Collection was released during Centenary Week (12-18 July 2010) on Adisadel Hill.
This is an exclusive double CD that features among others a talented group of musicians who have had a part to play with the rich music history of Adisadel...
The list includes Agya Koo Nimo, Glenn Warren, Ramblers Ft. Eddie Sagoh, Ricky Telfer, John Djokoto, Sam Mensah, Kweku Bentil, Gilbert Addy, Praye Ft. Tiatia, Kubolor, Nana Fynn, JB Freeman, Osei Owusu, The Adisadel Choir, Fiifi Selah, Terry Bonchaka, 4x4 Ft. Fresh Prince, Kwesi Owusu, Vico Mensah, Jon K, Ben Jerry Telfer, Moses Beyeeman, Acquah Harrison, The Adisadel Jazz Band, Centenary 'U' Group and John Adjah.

Santaclausians in North America
The double CD costs $25.00US (including shipping). If you are interested in buying a copy, please contact one of the following:
Email: kojoocran@hotmail.com (Kojo Ocran, Treasurer, AOBA-NA)
Email: peterpaul1gh@yahoo.com (George Arthur, President, AOBA-NA)
Santaclausians in the UK and Europe
Please contact James Mercer via email: jamusmercer@yahoo.com (AOBA-UK)
Santaclausians in Ghana
Get a copy of the CD from the following outlets:
Airport Shell (Accra)
JOY FM (Accra)
Oman FM (Accra)

Adisadel College

(Cape Coast)

Santaclausians in Other Countries
Please contact Dr. Sam Mensah via email: smensah7@gmail.com
Link: Sample Songs
---
Centenary Anthem Released
Toronto, Canada, Sunday 13th June 2010 - The Centenary Anthem has been released. The anthem is written and performed by Ricky Telfer (Hamlyn, 1965). All Santaclausians are expected to learn how to sing it in preparation for the Centenary particularly the Centenary Week Events. We would like to encourage all Old Boys to listen to the song and practice singing it.
Below are the lyrics and sound track:
Adisadel Centenary Anthem
Adisadel College, you're a century old
We tip our hats to you
We your sons unite,
Celebrate all night
And to thank the Lord above
He has aided you
To have come this far
Do go on for years to come
Santaclausians, rise up
Show your pride.
Adisadel forevermore.

We will beat the drum
Sing songs of joy
As we dance and jubilate
We'll keep praying for God's helping hand
On all who pass through your gates.

He has aided you
To have come this far
Do go on for years to come
Santaclausians, rise up
Show your pride.
Adisadel forevermore.